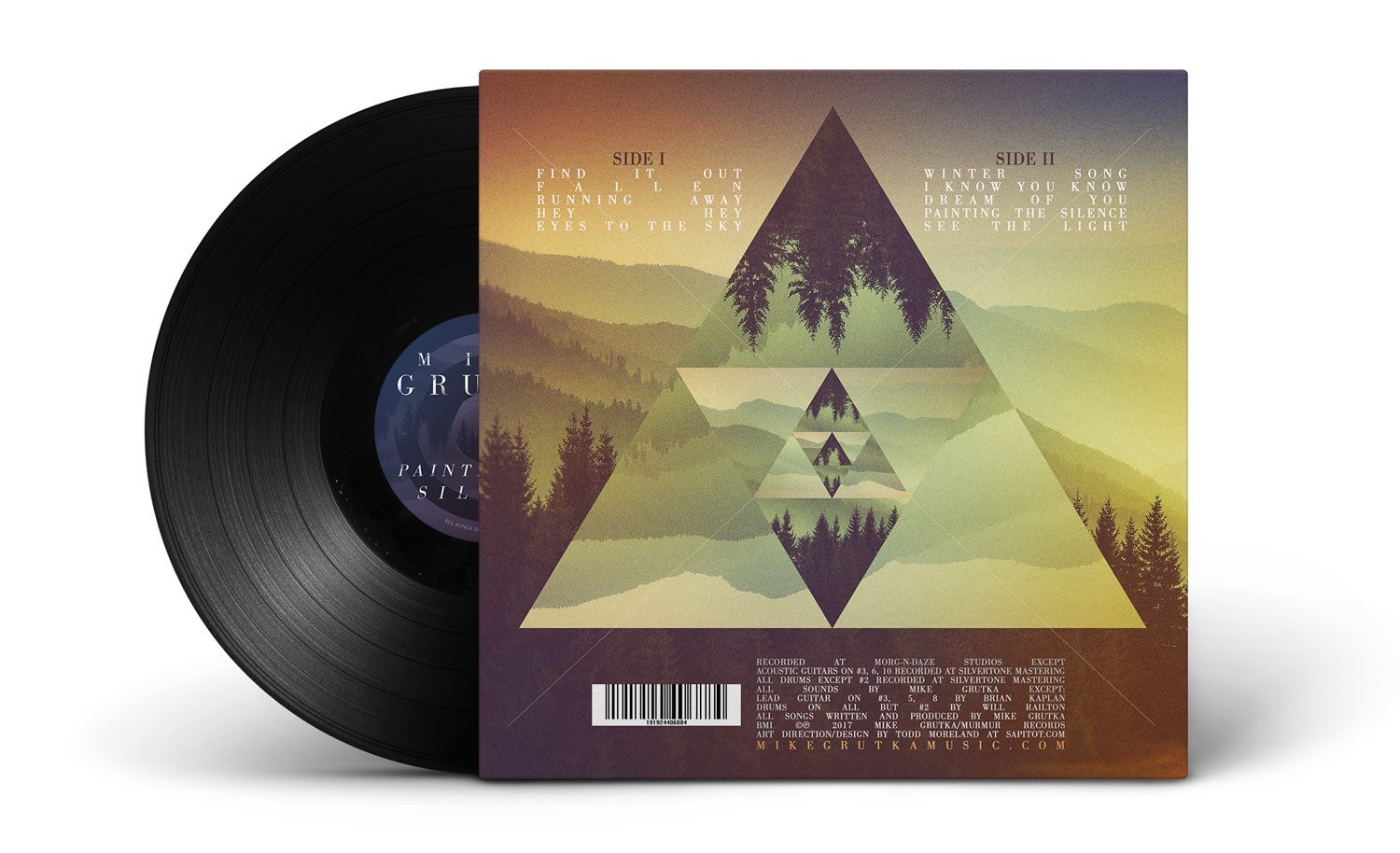 So yeah, Side 2!!
I LOVE records. I've always had a bunch and the last few years I've gotten back into collecting them. Not just old stuff either. I have almost all the Radiohead albums on Vinyl....it's pretty cool. You should try it! For this album I'm selling real honest to goodness records. Mainly cause I wanted one for me haha. Seriously! How fucking cool is it going to be to hold a 12x12 album of MY music in my own little hands? Or yours! You should get one. Cause like I said they're waaaaayyy cool.
So this is the first song of the second side. Thus Welcome to Side 2!!!
Winter Song  Kind of a misleading title. It wasn't when I started it. This was actually supposed to be on 'Ria' but I didn't have finished lyrics and I thought it was similar to 'Sleep of Dreams (Angels)' sonically. I wrote the music one afternoon in--you guessed it--winter. The sound of the music was supposed to feel like watching a snowy day. You know the kind: everything is covered in white undisturbed snow, the fluffy soft kind, big flakes slowly drifting to the ground from a sky you can't see through the snow, everything is really quiet and peaceful. That kind of day.
So I always called it Winter Song. This is the 3rd song of the second 'Theme' of the album. 'Hey Hey' & 'Eyes to the Sky' share the theme with this one. Finding happiness. This song turned into a sort of pep talk for someone. The first lyric--'Deep inside you want it all. But you've been afraid to find" I can seriously relate to that. So many times in my life. I've stopped myself from fear. Fear of the unknown. Fear of change. Fear of getting my heart broken. Maybe you have been there too? The song starts there and then lays out 'advice' (not really. I just can't think of a better word) that you would want to tell someone, a friend. Lover. Hell--maybe yourself. There's also the part of the lyric which let's someone know 'I'll be here for you'. I had the idea that the person the song is talking to finally made the decision to change or jump or try, and that someone would be there waiting for them. That turned into a scene of them waiting on the side of the road to be taken to the new adventure. "on the side of the road, I'm coming now'. I like that idea. We will all be ok.l
There's a line in the last verse-- "let the child that's in your soul come and play"... I LOVE that. I think sometimes we create too many problems for ourselves by getting stuck in the way we think. The way we act. Doing what we're 'supposed' to do. Living up to others expectations and stuffing our own needs and wants down somewhere where we can't find them. Like the kid in us. What's wrong with being child like? Curious? Adventurous? Seeking. Learning. Exploring. 
We lose that. It's a shame. I think anyway. 
I like this one a lot. I hope you do too.
You can download the album now and/or Pre-Order CD/Vinyl
Listen and share it if you enjoy it!
more soon
peace
Mike