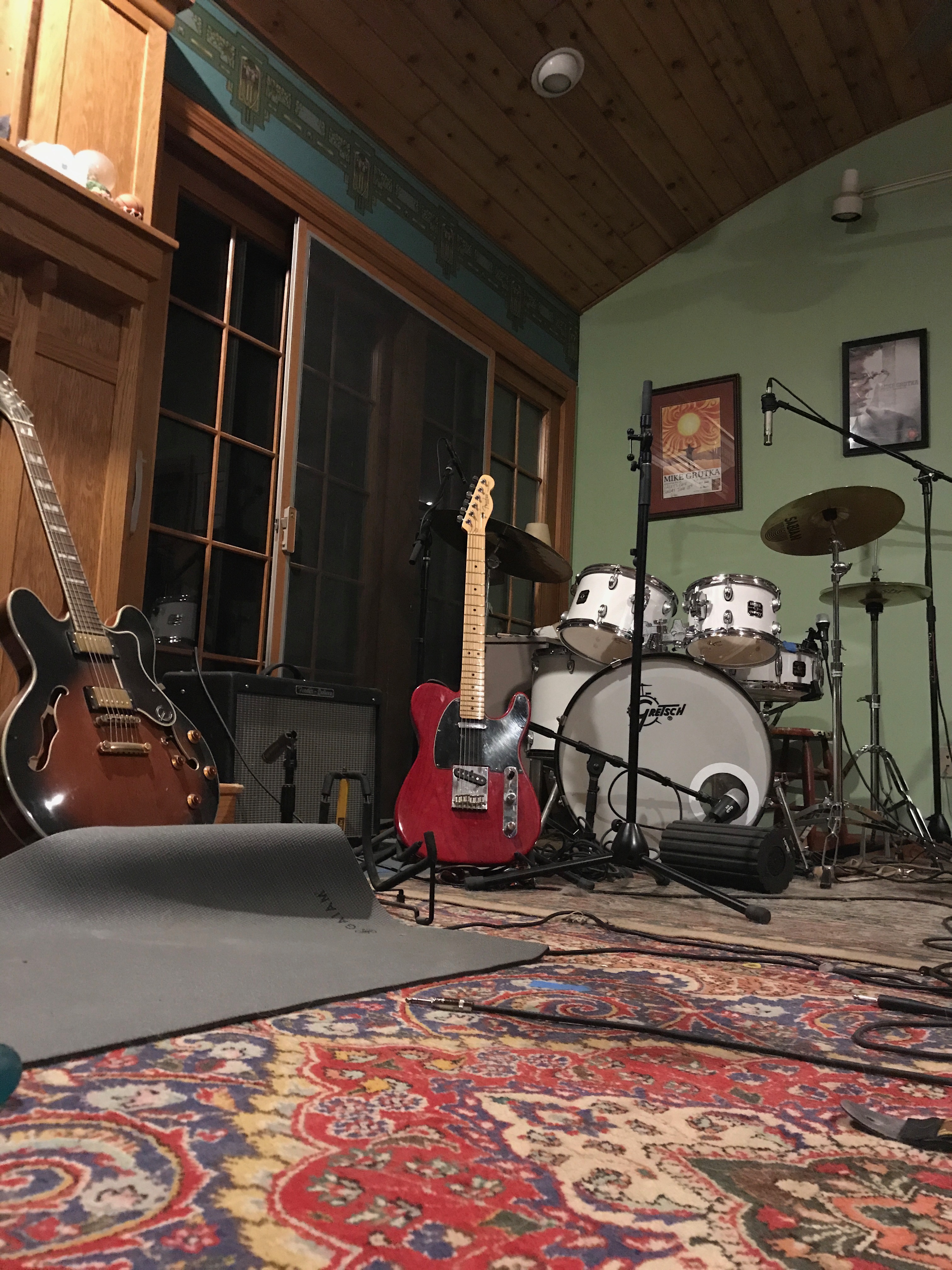 Tom Petty just passed away. I was so sad. I remember having his album 'Full Moon Fever' on near constant play one summer. And what musician wouldn't KILL for a 'Freefallin'? I don't know any. I would.
Tom Petty and John Mellencamp are two of my favorites. There's just something so honest and accessible in their music. Later the first Counting Crows album hit me the same way although a little more down in the mouth there was still 'Mr. Jones' and 'Rain King'. My band used to play 'Rain King' a lot. This song I always thought was my Petty-Mellencamp-Crows song. I don't think it's my 'Freefallin' or 'Mr. Jones' but if you want to prove me wrong and buy the crap out of it I'll take it!!
I was sitting on the couch watching the world series. One of the ones with the Giants in it. (October again. Man maybe I should just take the rest of the year off...) I had my guitar as I often do while watching TV. I started strumming this jagged little riff on the off beats. It stuck in my head. I'd come back to it again and again mostly because it was fun to play. I could hear what I wanted to do with it, but didn't.
A couple years later I randomly started playing it again and hummed out a melody. 'She starts running away' came out of my mouth. I liked it. Now I just needed to figure out what it was about haha. As usual lyrics were the sticking point.
I had booked studio time to record drums for the record. None of the songs were finished but I had a lot of the music done. This one made the cut then and with the drum part it sounded pretty near finished. Still no words. I came home with the new tracks and was inspired to write. I finished the lyrics but something was still missing. I tried playing a lead guitar with not much success. Tried an organ part. Nothing felt right.
My buddy Brian Kaplan had played with me for a CD release show and I gave him a call and asked if he'd come over and play some parts. We did 4 songs that day in about 2 hours. He's pretty good.
That's his lead guitar you hear and one of the only things I didn't play on the record. It was driving and melodic and had a bite to it. Perfect.
I think this one's pretty catchy but I'm always wrong about what everyone likes so. Listen and let me know haha.
Actually, this had been OFF the album for about 2 years. I don't know why. I think the fact that I kept trying to force myself to write a more acoustic stripped down record made me think this one was too 'rock' for the other songs. Which really makes no sense at all when you consider that the first two songs were never out of the running. I wrote in another post about bringing back and older song and dropping a few that I was struggling with. Well, this is that song. And it's just funny to me. Once I put this back in and took the other 4 out, it all suddenly made sense to me. The album flowed and was finished. And I had finished this song about 4 years ago. Life is strange. I don't know why I made the decision to pull this out. Or what made me think it wasn't a good fit. I had it all along. What made me pick this one out of all the other songs I've worked on over the last few years? I don't know really. I'm glad I did.
This also brings me to song order on a record. It has a lot to do with the flow of the songs yes. But to me this album has a 'story' to it and 'Running Away' goes perfectly with the themes of the first two songs and ends that particular 'chapter' of the story. I'll talk more about this soon.
Check it out here. Read the rest of the song stories if you haven't yet and pre-order and download your copy of 'Painting the Silence Vol 1' today!
more soon
peace
mike